2023 LAMDA Symposium
In the summer of 2020, amidst the unprecedented conditions of the Covid-19 pandemic, the Board of Regents via Louisiana EPSCoR and five Louisiana universities launched a multi-year collaborative agreement research project with the National Science Foundation dubbed the Louisiana Materials Design Alliance (LAMDA). The LAMDA partnership includes Louisiana State University, Louisiana Tech University, Southern University at Baton Rouge, Tulane University, and the University of Louisiana at Lafayette as permanent partners while offering annual competitive funding opportunities open to all Louisiana institutions of higher education, both public and private.
Three years later, we are happy to announce the third annual LAMDA Symposium.  For the first time in LAMDA history, the annual Symposium will be a face-to-face gathering of researchers from across the state.
---
Lodging
Lod Cook Alumni Center
3838 W Lakeshore Drive
Baton Rouge, LA 70808
(p) 225-578-3838
Room Block: 230719BOAR
Booking Link: https://reservations.travelclick.com/110626?groupID=3927758
---
Symposium Registration
Register here:  https://www.eventbrite.com/e/2023-lamda-symposium-tickets-637360651867
---
Technical Paper Submission
Please submit your 4-page technical paper via the link below.
https://forms.gle/jKGPDie1vJnSA5SH7
---
2023 Additive Manufacturing Frontiers Conference and the LAMDA Technical Meeting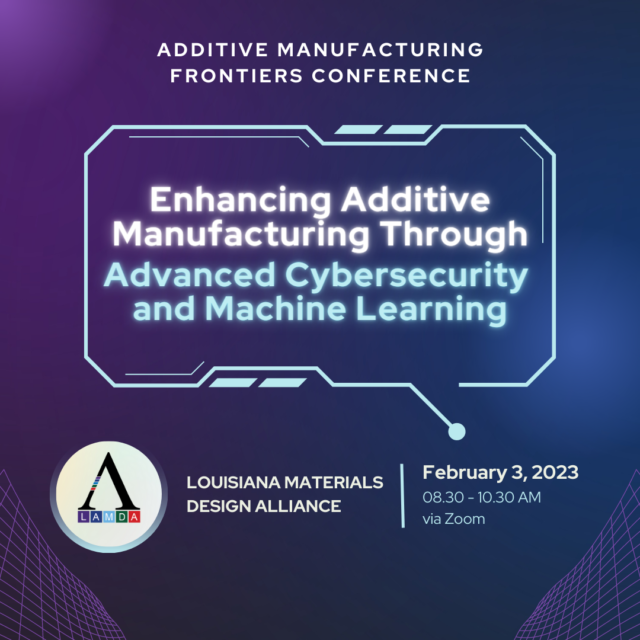 The 2023 Additive Manufacturing Frontiers Conference and the LAMDA Technical Meeting were held in tandem on February 3, 2023. The Frontiers conference started the day via Zoom, and the theme was "Enhancing Additive Manufacturing Through Advanced Cybersecurity and Machine Learning." Industry speakers included:
Dr. Felix H. Kim, NIST
Drs. Pramita Mitra and Ellen Lee, Ford Motor Company
Dr. Eric Biedermann, Vibrant
Dr. Michele Maasberg, United States Naval Academy
The in-person LAMDA Technical Meeting immediately followed the Frontiers Conference. LAMDA participants gathered on the Louisiana State University campus for networking and sharing research findings and ideas.
2023 LAMDA Additive Manufacturing Frontiers and Technical Meeting Agenda