POJMAN RECEIVES 2023 CHARLES E. COATES MEMORIAL AWARD
May 10, 2023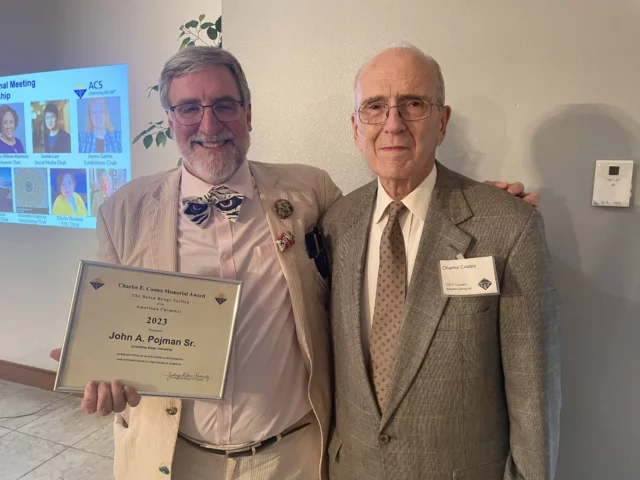 BATON ROUGE – The recipient of the 2023 Charles E. Coates Memorial Award is John A. Pojman Sr., the William and Patricia Senn, Jr., Distinguished Professor and Chair of the LSU Department of Chemistry.
Established in 1957 by the Baton Rouge Sections of the American Chemical Society, ACS, and the American Institute of Chemical Engineers, AIChE, the Coates Award honors the memory of Charles E. Coates, one of Louisiana's most prominent figures in chemistry and chemical engineering. The award recognizes Pojman's outstanding contributions to the profession of chemistry, the ACS, and the chemistry community.
In 2008, Pojman moved to Baton Rouge and joined the LSU Chemistry faculty as a professor of macromolecular sciences. His research interests include frontal polymerization, nonlinear phenomena in polymeric systems, cure-on-demand polymerization, and the materials of art. And most recently, Pojman has been collaborating with scientists at the LSU AgCenter in developing a bait system to cut feral pig populations, protecting crops, people, and other animals.
As a scientist and educator, Pojman has maintained a successful research and mentoring program for over 30 years. He has over 315 scientific presentations, 180 peer-reviewed articles, and 15 book chapters. Not only maintaining a lab with graduate students, but Pojman is also passionate about providing research opportunities to undergraduates. Since 1990, over 180 undergraduates have worked with him.
---