Each year the Louisiana Materials Design Alliance (LAMDA) awards seed grants intended to spur activity in one of multiple domains:  single investigator research, post doctoral research, collaborative research, industrial partnership research, STEM education outreach, and the Supervised Undergraduate Research Experience (SURE).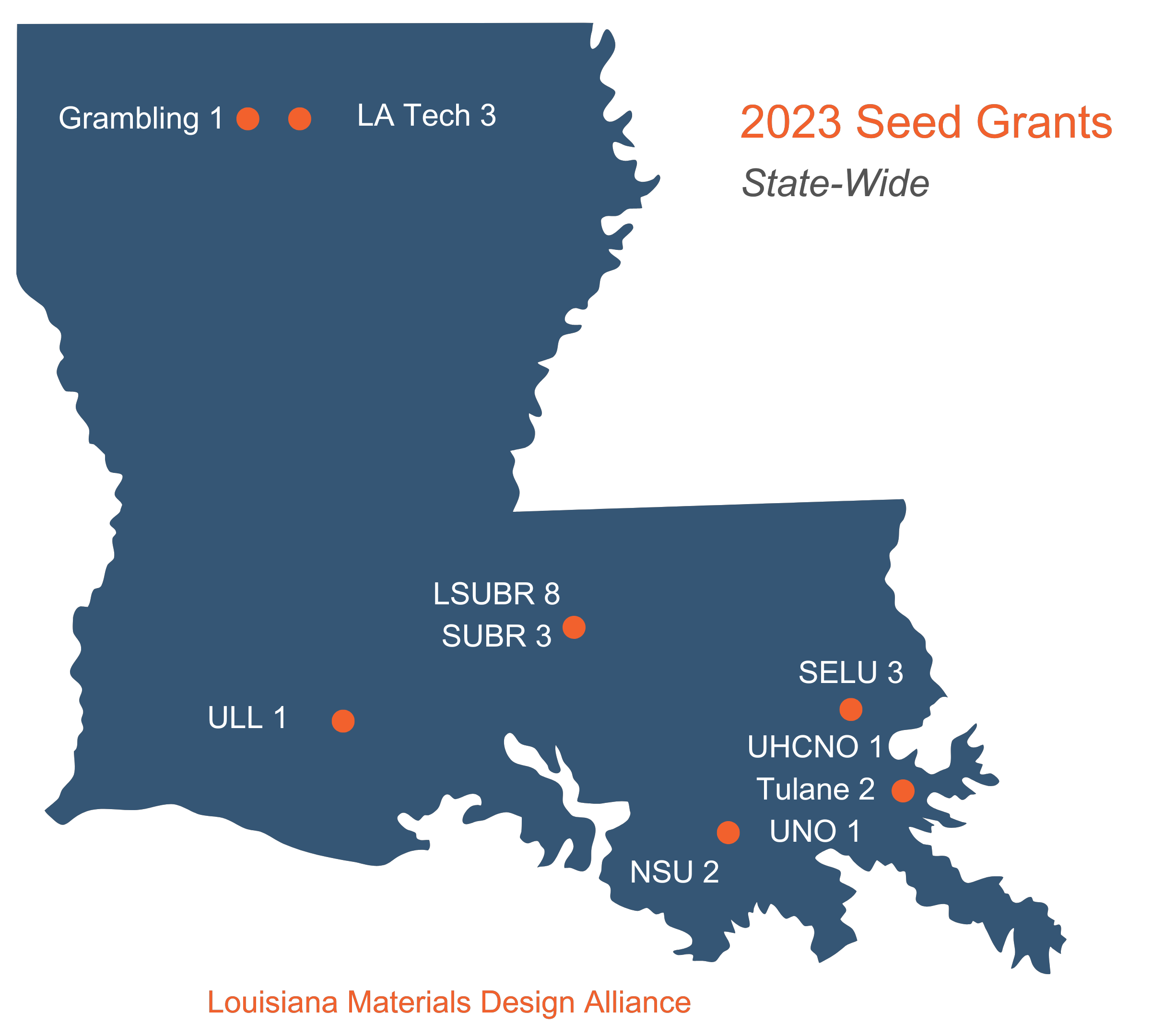 For 2023, LAMDA is pleased to award twenty-five seed grants to researchers at ten universities across Louisiana.  All of Louisiana's institutions of higher education are eligible to apply for a LAMDA Seed grant including researchers from LAMDA's five member universities:  University of Louisiana at Lafayette, Louisiana Tech University, Tulane University, Louisiana State University, and Southern University.  This year, an additional five non-member universities are represented in seed grant awards:  Grambling State University, Nicholls State University, University of Holy Cross New Orleans, University of New Orleans, and Southeastern Louisiana University.
In addition to offering state-wide research support, LAMDA Seed grants also provide research opportunities for individuals throughout the university pipeline, from underrepresented undergraduates to tenured professors.  LAMDA seed grants are one leadership development tool employed by Louisiana's university research community.
To apply for a LAMDA seed grant, bookmark the following page and check back often:  https://laepscor.piestar-rfx.com/opportunities.
Track 1 Single Investigator
Corina Barbalata, LSUBR
Seonhee Jang, ULL
Christopher Marvel, LSUBR
Michael Naguib, Tulane
Hadi Salehi, LA Tech
Weihua Wang, SUBR Ye Xu, LSUBR
Haeyeon, Grambling
Feng Gao, SUBR
Track1B: Collaborative Partnership
Zhengming Ding, Tulane
Ope Owoyele, LSUBR
Kshitiz Upadhyay, LSUBR
Hao Wang, LSUBR
Yang Xiao, LA Tech
Track 1C: Postdoctoral Research Award
Tong Gao, LSUBR
Lijesh Koottaparambil, LSUBR
Track 2: Industrial Collaboration Award
Vincent Yu, UNO
Track 4: STEM Outreach
William Deese, LA Tech
Wendy Conarro, Southeastern
Wendy Conarro, Southeastern
SURE Awards
Undergraduate students interested in the Supervised Research Experience for Undergraduates should contact their major professor about collaboration on an application.
Uttam Pokharel with Lily Siddon, Nicholls
Enmin Zou with Abbey Johnson, Nicholls
Prem Chanda with Sophie Lee, Southeaster
Darryl Holliday with Isabelle Giangrosso, Holy Cross
Shizhong Yang with Jebriel Morehouse, SUBR
---